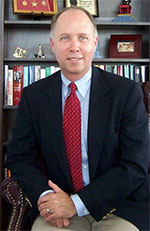 Biography - Fred Rhodes
Fred has extensive experience in a wide range of commercial litigation, with a concentration in business, construction, and probate disputes. Fred has been named to Marquis' "Who's Who in American Law" and is a frequent lecturer on litigation and probate matters.
Before entering the practice of law, Fred was a working journalist for nearly 15 years. He was a television reporter and news editor for stations in Austin, Shreveport, Houston, and St. Louis specializing in covering politics, law, and business. In addition, he has worked for CBS News "60 Minutes" as a field producer and served as the editor-in-chief of Houston City Magazine.
He is the former chair of the Houston Bar Association's Law and Media Committee, served as a director of the University of Houston Law Center Alumni Association, a member of the editorial board of the Houston Lawer, and is a past president of The Park People of Greater Houston.
Fred obtained his B.S., Radio-Television-Film from the University of Texas at Austin in 1974 and his J.D. from the University of Houston Law Center in 1991. He was formerly in the litigation section of Haynes and Boone, L.L.P. in Houston
services list
Philosophy
" Discourage litigation. Persuade your neighbors to compromise whenever you can. Point out to them how the nominal winner is often a real loser, in fees, expenses, and waste of time. As a peacemaker the lawyer has a superior opportunity of being a good man. There will still be business enough."